There can be nothing more enduring than a cobbled driveway, simply no other product can achieve the look of granite used in this form. Laid correctly it will last a lifetime and continue to look better as the years go by.
Driveways will generally cover a larger surface area than other hard standing areas within a property, such as a garden path or patio. We understand that making this kind of financial commitment needs to come with certain assurances.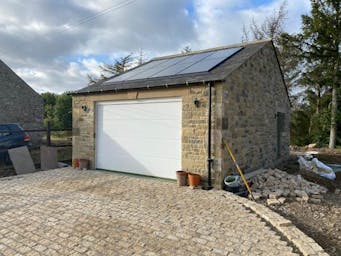 Our granite is quarried in the northwest of Portugal, widely regarded as having the best granite in the world. The durable nature of the stone makes it ideal for areas that receive a high volume of vehicle or pedestrian traffic.
We will endeavour to offer the customer a bespoke service, from suggestions in design and product, through to delivery, and we aim to provide the highest standards in customer service. We are committed to offering honest and informed help at all times.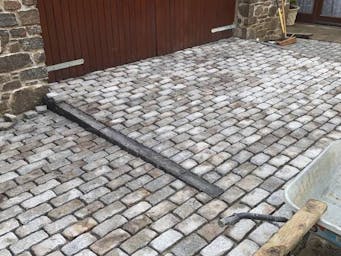 We always have large quantities of stock available and so are in an excellent position to accommodate your needs. We have an extensive portfolio of photographs from our own work to that of our clients which we are happy to share. In addition to this we can always help with decisions regarding the mixing of sizes, colours, or potential designs.
Trusted contacts within the haulage industry that are used to working with our products and the challenges that can arise from delivering to a range of locations in various stages of development, allow us to make the process of moving large quantities of materials as smooth as possible.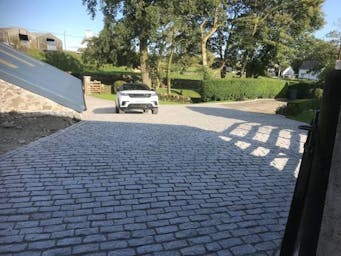 The products are available in a range of finishes from natural split or cleft to tumbled or sawn to size. Finishes include brush hammered, fair picked or shot blasted. The majority of the stock we carry are in the five main sizes that we see throughout the UK, however it is not uncommon for us to have specific sizes of cobbles made to order. We have an excellent relationship with a number of suppliers and are more than happy to work with the client to fulfil any requirements within a sensible time frame.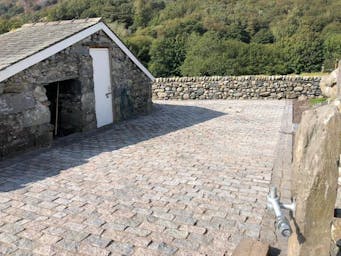 There are many styles of property within the UK, encompassing a large variety of building materials and finishes. Granite setts can look at home in any setting, they are available in a large range of colours and can be made to almost any size. They can be adapted to suit a range of designs or used in conjunction with other landscaping or building materials.
We supply many businesses throughout the country who use our setts along side tarmac, resin or gravel driveways. Often using the setts as rumble strips or threshold areas at driveway entrances or as edging stones to retain or create an attractive boundary between different areas of the property.
With our background in construction and design, we have hands-on experience to help guide our clients through the process from conception to completion.
If you would like to speak to us directly regarding your project, you can either email Michael - info@granitesettsdirect.co.uk - or call Michael directly on 07388198476