Delivery Throughout The UK
We offer standard delivery, which is 2-3 working days, however next day delivery is available upon request. This means kerbside delivery, in most cases the crates containing the granite setts will be manoeuvred off the vehicle, down a tail lift using a pallet truck. It is recommended that this be onto a hard standing area. Should the customer require the setts to be placed in a specific place this will be at the discretion of the delivery driver.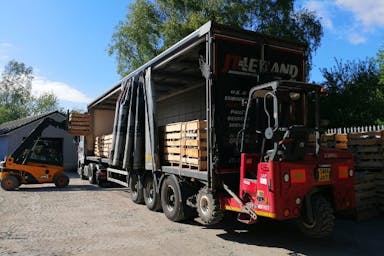 We do have a relationship with a number of haulage firms, and we can offer a more bespoke service if required, such as smaller vehicles for places with restricted access or larger artics, supported with forklifts with all terrain pneumatic tyres, particularly useful for customers who require the products to be placed in areas where the ground is uneven or in state of preparation.
Flexible Delivery Dates
Where possible we will aim to book your order in for a delivery day that suits you best. During the placing of an order with us you will be given the opportunity to add specific shipping instructions which we will then pass on to our couriers in an effort to make the whole process as convenient as possible.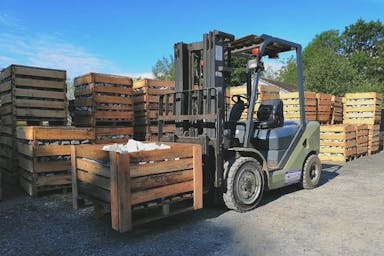 When the customer receives the granite setts they will be packed in wooden crates, either in one tonne or half tonne quantities. These crates are solid in construction making the handling of the setts easier. In addition, this way of packaging will keep your granite setts compact and neat.
Covid-19 Secure Deliveries
All deliveries are made with the safety of both customer and delivery driver. Click on the link below to see how your delivery will be conducted.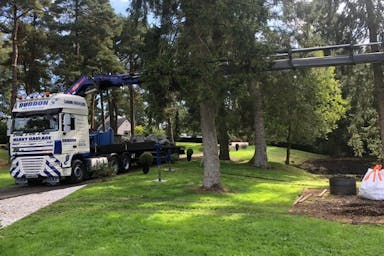 For circumstances that require it we can offer crane supported vehicles, capable of lifting heavy weights into places otherwise inaccessible using traditional methods, however, in certain cases, depending on individual circumstances, these services may come at extra cost.
Collect your Granite Setts in person
We welcome visitors, by appointment, to our premises in the South Lakes and are more than happy to load vehicles or trailers for customers wishing to collect the granite setts directly from our yard.
Please contact us to discuss your specific requirements where we will be able to advise on the possible solutions.