UltraScape FlowPoint Rapid Setting Grout
Flowpoint is a rapid setting paving grout suitable for use on a comprehensive range of landscaping materials, such as granite setts, Indian stone paving slabs, porcelain paving, yorkstone and many more…
Flowpoint Benefits
Rapid setting in all weathers.
Unrivaled construction life of up to 40 years.
Quick and easy to install.
Cost effective.
Extremely tough and durable.
Tried and tested.
No shrinkage.
Professional finish.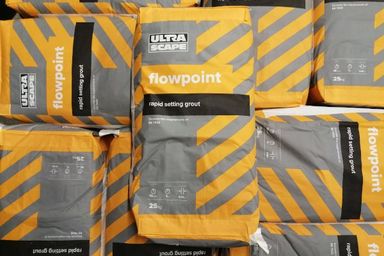 Why Choose Flowpoint?
We use the product on site on a daily basis.
Flowpoint is, in our opinion, the best product of its type. Over the years of experience we have gained in the landscaping industry and having undertaken many projects varying in size from small private garden construction jobs to larger commercial projects, we have used the majority of products on the market. Although some of these products are undoubtedly very good, Flowpoint is by far the best. We have never had to go back and revisit a job that has been pointed using Flowpoint.
For a company like ours that specialise in granite setts, grouting is always a big consideration in any work we undertake. It is always an important consideration when pricing for work and calculating the cost of materials and labour, and Flowpoint is a very economical solution to pointing granite setts, either tumbled or split.
Despite over the years having honed our skills to achieve a suitable finish when pointing in the traditional way, the visual effect produced by Flowpoint is very difficult to beat. Combine this with it's durability and strength and we find ourselves reluctant to use anything else.
Traditional Pointng
Pointing in the traditional way, if not undertaken with a degree of thoroughness, can lead to disappointing results such as shrinking, which can lead to water penetrating the mortar joints. In time this will lead to the pointing crumbling and being generally unsatisfactory. In many cases it can become unable to withstand pressure washing and ultimately will require regrouting, which isn't ideal. This is not a problem with Flowpoint if properly applied.
Many of our customers agree, we regularly speak with contractors in the industry who would not consider using anything else.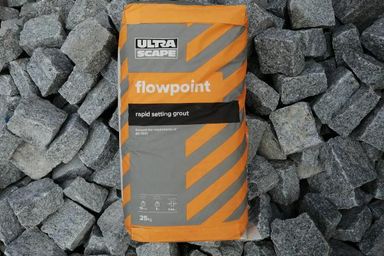 Flowpoint Prices
Price per 25kg Bag
Price per bag £22.50

inc Vat

Buy 10 and pay £21.90

inc Vat

Buy 28 and pay £21.30

inc Vat

Buy 56 and pay £20.10

inc Vat
Prices are inclusive of VAT and exclude delivery charges
Special rates and delivery options are available for existing customers who are purchasing their granite setts through us, regardless of quantity. Please phone for details
View the Technical Data Sheet
Application
No specialist equipment is needed to apply Flowpoint. We generally mix it with a plastering whisk in a mixing bucket on site, and apply on to the presoaked area. Do not delay. It is best worked into the joints with a squeegee removing the excess from the paving or granite setts. We find, depending upon the weather conditions, that spraying a fine mist whilst the product is curing allows the user to gently remove excess product without upsetting the curing process. After an initial setting time of around 15-20 minutes, depending on the temperature, it is then washed off with copious amounts of water to leave a perfect finish. It is worth noting that it is very important to follow the instructions on the bag, do not deviate.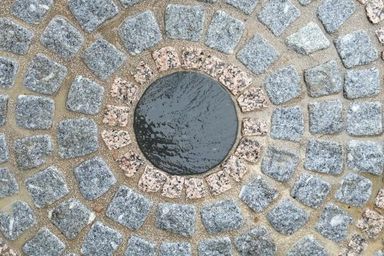 It requires 4.25 litres of water and must be mixed for 3-5 minutes until a smooth lump free consistency has been achieved. Be prepared...because Flowpoint is a rapid setting grout and there is not enough time to transport the product after mixing, it must be applied immediately, constantly working the slurry into the joints as required. Then rinse as required. We find it is best to apply in relatively small quantities such as 1 or 2 bags at a time before moving on to the next section and repeating the process. It must not be allowed to cure for too long before being washed off.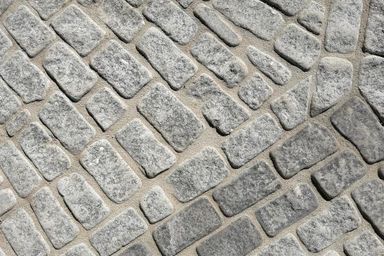 How much will I need?
Regarding coverage rates….it's difficult to be exact because it will depend on the width and depth of the joints but for paving slabs one bag will do around 7 sqm and for granite setts we find that one bag of Flowpoint will do around 1.5 sqm. Flowpoint comes in 25kg bags. We recommend that for granite setts a mortar joint with a width of 12mm and a depth of 20mm is about perfect but measurements either side of this will be fine.
The product will arrive in paper 25 kg bags which are not waterproof and so it must be kept dry until applied. We welcome any questions about the product and the methods of application, and are always available to discuss any questions.
How and when will the product arrive?
The bags of Flowpoint will be palletised which will be shrink wrapped to offer some protection from the weather and to help prevent damage during transport. As with the other products we sell, delivery times can be arranged to suit, standard delivery is two working days, or next day delivery is available if required.