Other than the traditional uses for granite setts, such as pathways, driveways and as hard-standing areas in landscaping designs, granite setts, in particular, the larger sizes, can be used as edging stones, retaining other materials such as gravel, chippings, concrete or tarmac.
For example, the 200x100x100mm or the 200x100x50mm make a versatile edging material for pathways. The size allows the user to lay the stones with sweeping curves, circles, or to soften angular edges. Although we are able to supply a number of different finishes to our setts, such as sawn or hammered, the majority of granite setts we sell are naturally split making it easier to use them where there are changes in elevation.
Due to the substantial, and durable nature of the granite, they will look at home within more geometric designs. Various styles can be achieved by either using the one size and colour or mixing them depending on the nature of the project and the final look the client wishes to achieve.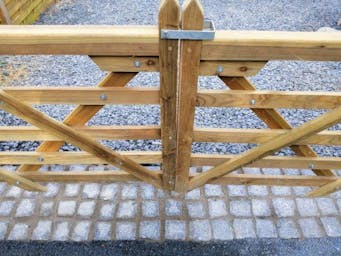 Coverage & Cost
In a single crate of setts with the size 200x100x100mm, you can expect to receive approximately 180 pieces. The number of setts can vary when the stones are naturally split, we work to a tolerance of 10%. Based on using 5 pieces in a linear metre, you can cover approximately 36 metres of edging.
Our granite setts in this particular size start from £253.00 for the medium grey, the light grey cost is £266.00 and the black granite costs £346.00 per 1-tonne crate. This brings the cost per linear metre to just £6.81 for the medium grey and £8.95 for the black.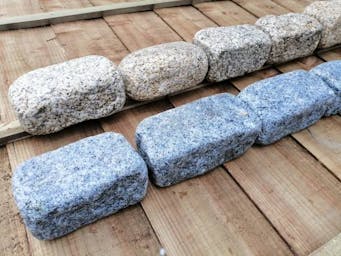 When compared to alternative materials that would perform the same task, such as a precast concrete product or a less durable material such as a timber edging, this use of granite is hard to beat. A natural product giving a long lasting quality appearance that will only improve over time as the setts weather within their surroundings.
We sell a lot of 200x100x50mm as edging stones for meandering pathways in cottage style gardens or patio areas, with customers using the smaller sizes, 80x80x80mm or 100x100x50mm, encased within the bigger sizes. Equally popular is using this size as edgings for gravel driveways or paths, as described above, with either the 50mm edge standing proud or the fuller 100mm width of the setts on show.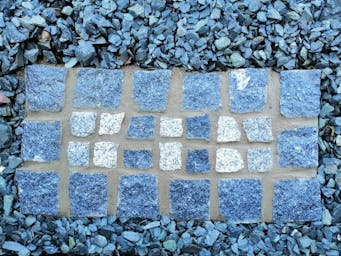 In a single 1-tonne crate of 200x100x50mm, you will receive approximately 360 pieces achieving around 72 linear metres. The cost of this in the medium grey colour is £334.00, bringing the price per metre to be just over £4. There are no other products on the market that can compete with this.
The granite setts make an excellent choice for threshold areas, as in the image above, offering a transition from a tarmac pavement to a gravel driveway. Used in this way the granite setts can really soften and add interest to what otherwise could be a problem area.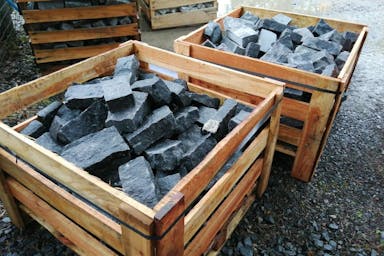 Half Tonne Crates
Here at Granite Setts Direct, we understand that not everybody is looking for large quantities of granite setts. Sometimes a small amount of work in the right place can make a big difference to the appearance of an otherwise uninspiring area. For this reason, we are happy to supply our products in half-tonne crates.
Shop Granite Setts