Perhaps the most enduring of all images is that of a cottage garden with a meandering pathway, flanked on both sides with a herbaceous border. Granite setts are the ideal material for this type of feature.
The versatility of the setts allows for either straight lines or sweeping curves. The pathway can accommodate subtle changes in elevation or width that would be difficult to achieve with standard paving slabs where cutting to shape may be required. With our granite setts, you can maintain your preferred design along the length of the pathway regardless of its length or shape.
The most popular size for a garden path we sell is the 100x100x50mm granite sett, combined with 200x100x50mm, used as edging stones. A garden path which is approximately 13 meters long and just over a metre wide, containing 1 crate of 100x100x50mm, edged with half a crate of 200x100x50mm, could cost as little as £476.00 inclusive of VAT.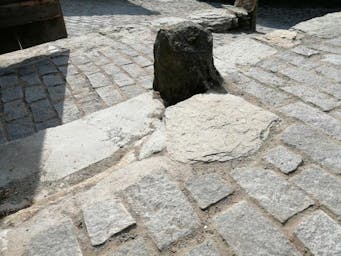 The coverage of a crate of Medium Grey 100x100x50mm is approximately 9m² and start from just £33.00 per m².
The coverage of a ½ crate of Medium Grey 200x100x50mm is approximately 4.3m² and start from just £44.65 per m².
Delivery for this would of course depend on location and can be calculated when selecting your preferred size and quantity.
View All Our Granite Setts